philosophy
We have the perfect combination of microclimate and biodiversity.
Stefano and Marina have always believed and invested in organic production.
In Vittoria, organic isn't a choice, but a way of life. Our work is not limited simply to following the rules laid down for organic cultivation, it has become our philosophy, our raison d'être and our way of life. The results speak for themselves in the glass.
terra rossa
The "Terra Rossa" soil at Santa Tresa is a theatre of life. Each portion of our land expresses itself individually, characterised by the composition of the soil from the roots to the leaves.
Our vines are enriched by particular nutrients found in the Santa Tresa Terra Rossa, resulting in grapes which are a direct reflection of this special terroir.
All of our efforts are focused on the elements which create the most authentic wines. It is important for us to have an excellent understanding of the soil in order to know how to operate, we have therefore undertaken a detailed study of the stratification of the terra rossa at Santa Tresa. The top layer is sandy red soil, rich in minerals, with an alkaline PH and good permeability. The next layer is 1-2 metres of clastic sedimentary rock, which originated from marine deposits, weak rock, which the roots can penetrate easily. Finally, the lower layer is a clay substratum, which retains water, creating a reservoir.
biodiversity
A biodiversity that is a resource and a defence.
Not just for the vines, but for olives, oranges, lemons, mandarins, carobs, mulberries, figs, pomegranates and wild liquorice.
Our vineyards are full of life – home to reptiles and small mammals. Our trees are a refuge for numerous species of birds.
At Santa Tresa, a wide variety of wildlife co-exists. It is truly a natural paradise, populated by foxes, hawks, rabbits, goldfinches, as well as bees, which give us excellent honey.
There is still a wealth of life underground, from the roots of everything that grows here, to micro-organisms and insects. Finally, there is us, man. Also a part of nature, we sometimes guide it and sometimes simply stand back and admire it. Santa Tresa is alive with a great number of life-forms, which together create a genuinely perfect place for organic production.
in the vineyard
We are first and foremost proud to be organic farmers.
We cultivate our vineyards with great respect for nature and the Sicilian terroir.
Our terroir is the jewel in our crown and it is vital that we preserve and protect it.

Favino – a natural fertilizer — We grow "favino", a green legume, which we plant every December. Once in bloom, it is shredded and ploughed into the soil, acting as an extremely effective and totally natural fertilizer, by adding vital organic substances to the soil.

Pruning — Particularly in Sicily, with the high temperatures, it's very important to protect the vines from the harsh sunlight, so that the grapes are not damaged. Very careful pruning provides the grapes with the necessary shade from direct sunlight.

Sexual Confusion — This is a totally natural method of controlling and reducing the number of insects in the vineyards – the males are disorientated and therefore mating is drastically reduced – with the use of no harmful chemicals.
in the winery
Our methodology in the winery follows the same principle as in the vineyards – everything is done as naturally as possible.
In the vineyards, we work so hard to achieve the absolute best quality from our vines, so our work in the winery concentrates on preserving this quality. Our philosophy is of minimum intervention – the fruit that we have so carefully grown and harvested has to be guided rather than forced to realise its potential.
sustainability
To produce our grapes sustainably by establishing the perfect balance between the vine and the environment (earth, air, water) is our principal objective at Santa Tresa.
We achieve this by making small adjustments in our daily activities, to support the eco-system.

Protecting the vines — We protect our vines by implementing and continually assessing the best operational methods, for example, in the hottest months of the year, we only work in the coolest parts of the day. We only intervene when it is absolutely necessary for the protection of the vines.

Reduction of CO2 — Our management of the soil at Santa Tresa is particularly note-worthy. In addition to using the natural "favino" bean for fertilizer, we also closely monitor weeds in between the rows of vines, removing them should they start to compete with the vines. Our methods are as natural as possible in order to minimise the level of CO2 emitted into the atmosphere.

Water Management — We are very careful about water management, making sure that irrigation is only used sparingly, in order to both save water and cause minimum stress for the plant.
the numbers
Sicily is the leader in Italy in terms of organic wine production (27.2% Italian organic UAA), with about 10,000 workers employed in this sector.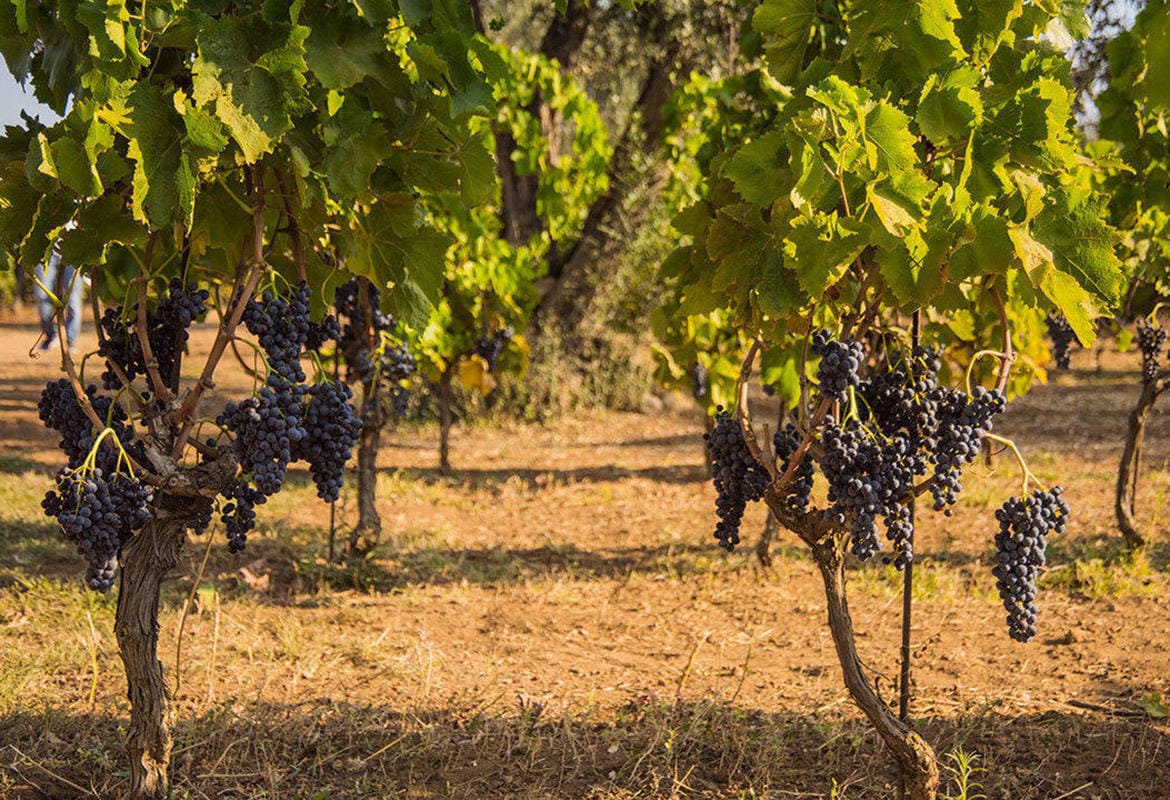 The island also has a long and continuous tradition of genetic crop development, for example, Sicily boasts 52 native species of durum wheat, while the USA only has six.
Initiatives such as our experimental vineyard are testament to this. Organic matter is considered one of the most important indicators of soil quality.

The efficient use of water resources for irrigation in the agricultural sector helps to reduce carbon emissions.
flora and fauna
The island of Sicily is rich in biodiversity, both in terms of plant and animal species, of which there are a great number of indigenous varieties.
Agricultural practices are carried out in such a way to minimise the effect on the local environment, protecting ecosystems and enabling species to move between natural habitats through so-called "ecological corridors".

We leave grass to grow naturally between the rows to encourage biodiversity. This attracts insects, which in turn attract birds and rabbits, which in turn attract foxes and hawks.