Sicilian food culture
Sicilian cooking is a real art, which is appreciated all over the world.
Its origins go back centuries and can be traced to specific historical and cultural events.
Handed down from generation to generation, Sicilian food culture is a source of great pride for Sicilians, as well as being a great attraction for tourists.
The first written records of Sicilian cuisine date back to the Greek era. It was Syracuse that made Sicilian cooking famous in Greek cities. Sicilian chefs were considered among the most skilled in the world and were in high demand in Athens, Sparta and Corinth.
It was in Sicily that some of the most important personalities of the culinary world were born, such as Labdaco of Syracuse and Miteco Siculo, who was the author of the first ever cook-book, as well as Archestrato di Gela, considered the father of culinary critics.
the land of flavour
An ancient history that decade after decade has culminated in Sicilian cuisine as we know it today – full of wisdom and flavour.
Sicily is not only known as a stunningly beautiful place, but for its unrivalled food culture, which is the basis of the Mediterranean diet.

Of all the Italian regional cuisines, it is Sicilian gastronomy that has evolved the most over the centuries, while at the same time remaining deeply anchored to the origins and typical products of the area. It is not appropriate to speak of Sicilian cuisine in the singular – there are many, many cuisines to be discovered on the island.
Ravioli di ricotta alla ragusana


Ricotta ravioli, with a tomato sauce made with pork. The ravioli dough is simple egg pasta and the filling is the peculiarity of the dish, since it's made with ricotta "aruci", or sweet. The ricotta has some sugar, which goes brilliantly with the sauce. Alternatively, for less daring palates, the ravioli can simply be filled with ricotta, parmesan or marjoram.
The gentle, delicate tannins of our Cerasuolo di Vittoria complement the intense flavours of the ravioli and sauce perfectly. The fruity notes are a perfect combination with the acidity of the ricotta.

Scacce Ragusane were originally eaten by the poor. In the past, this dish used to be prepared once a week, but now it tends to be made for special occasions such as Christmas Eve. Scaccia is a kind of stuffed focaccia, with very thin dough, which is stuffed & folded on itself. It can be stuffed in a variety of ways, the most well-known being tomato with an aged local cheese "caciocavallo". Another typical filling is tomato with fried aubergine and basil, or tomato and onions.
Our Grillo Spumante, served chilled, is the perfect accompaniment to this rustic local dish. The mousse refreshes the palate after you have eaten our scacce.

Sardines "a Beffafico" are again a dish traditionally eaten by the poor, with only a few ingredients (which may vary from region to region in Sicily) in addition to the sardines. The principal ingredients are breadcrumbs, raisins and pine nuts, which are the filling for the sardines. The dish is baked in the oven until crispy in texture.
Our Rina Russa Frappato, with its fresh, fruity character and gentle tannins complements this fish-based dish perfectly.

In Vittoria Frappato is traditionally drunk with fish.

Arancini are a Sicilian speciality, which absolutely must be tasted when you visit our splendid island. The arancino is a symbol of Sicilian street food par excellence, something which is found all over Sicily – always hot and with a wonderful aroma. In western Sicily, the aricina is like a ball, similar to an orange, which is how it got its name. In eastern Sicily, however, it takes an oval form, more like a pear. There is also a difference in how they are named – feminine "arancina" in the west of Sicily, while in the east it is masculine – "arancino".
There are many different variations of arancini in existence, depending on the ingredients used to fill them. Our speciality in Ragusa is for saffron to be added to the rice together with a local cheese. The filling that we recommend to you is: sardines, wild fennel and pine nuts – arancini di pesce.
The Frappato Brut di Santa Tresa matches prefectly with these delicacies as the fried part of the arancino is balanced out by the freshness and minerality of our Frappato Spumante Brut.
Bruschetta with cherry tomatoes and anchovies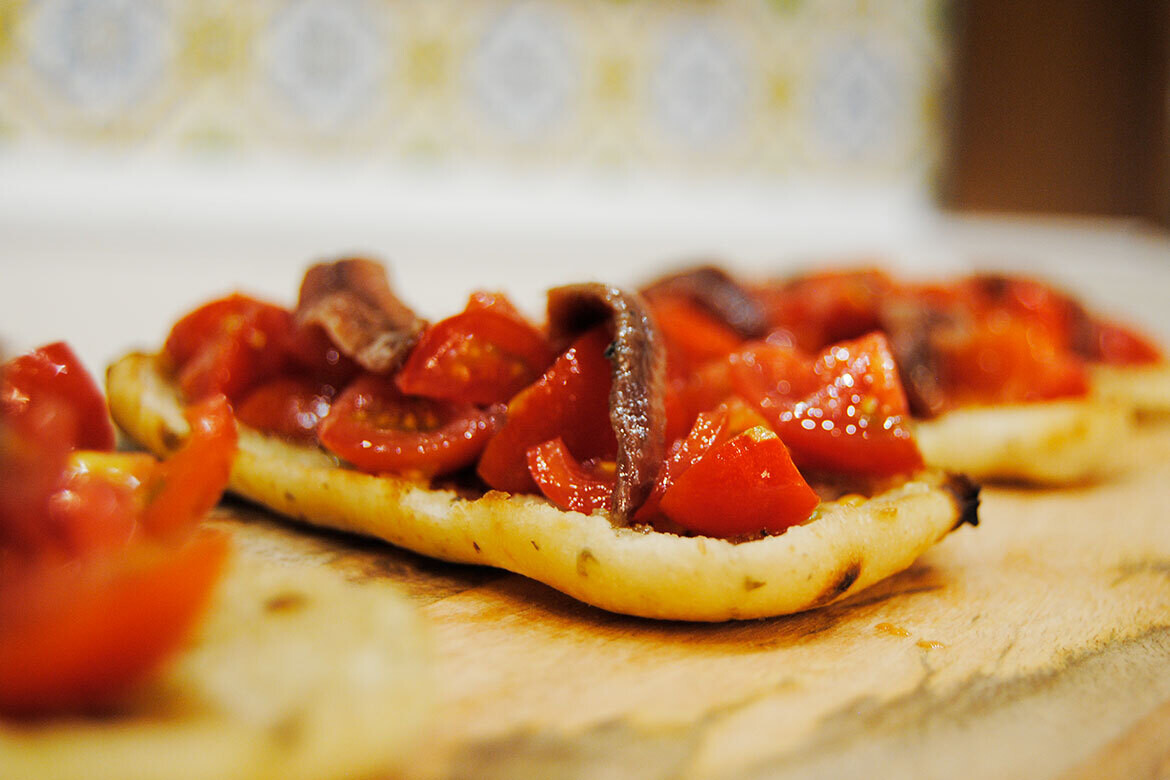 Bruschetta with cherry tomatoes and anchovies is a really quick and simple antipasto – perfect if you get home at the last minute and you have friends coming for an aperitif, or buffet. You can prepare them in just a minute and know that they will be delicious. You can add all sorts of things to these simple toasts with a tomato base – capers, olives and a good lot of olive oil. You should definitely try them with a glass of our Insieme Nero d'Avola no sulphur added – for a really rustic aperitif.
Our Insieme Nero d'Avola really does go perfectly with tomato bruschetta, complementing the aromas of tomato leaf and herbs such as rosemary and sage.

Insalata di mare is a classic Sicilian antipasto – tender, tasty seafood, which has a scent of the sea and is mainly eaten in summer. It comprises of a variety of shellfish – clams, mussles, octopus, boiled together with some vegetables – carots, celary – and dressed with olive oil and lemon.
Our Rosa di Santa Tresa goes perfectly, with the delicate flavour of the salad being enhanced by the lovely minerality of the rosé.

Pork cooked in a sauce is a tasty Siclian recipe, which is generally prepared on Sundays or festival days.
It is often prepared during carnival, for example. The sauce is mixed with fresh pasta, such as ricotta ravioli, while the meat makes a wonderful main course with a slice of homemade bread. The recipe is simple and so handy as you prepare one dish have two courses!
Our Avulisi Riserva which complements rich,strongly flavoured meat dishes, makes it the perfect accompaniment to Pork alla Siciliana.